TLV: Subscription III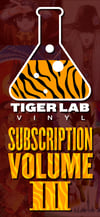 TIGER LAB VINYL Presents
SUBSCRIPTION III
Available for pre-order here on October 20th, 2020
Welcome to the next era of Tiger Lab Vinyl!
We are thrilled to have you with us.
We're kicking-off with the launch of our new subscription package with five exciting titles and exclusive gifts.
Each of the five titles in the subscription will contain an exclusive subber-only variant, with alternate silk screened cover art courtesy of our partners, Holy Mountain Printing.
In addition to the records, all subbers will receive a TLV face mask and first dibs on some of the insane releases we have lined up.
Each title will be available separately in standard editions once the subscription registration period closes later this fall. All artwork will be revealed during the announcement of individual releases.
US customers: $275 (includes shipping)
International customers: $330 (includes shipping)
TLV SUB III contains the following:
3X3 Eyes: Legend of the Divine Demon
Devilman: The Demon Bird
Hunter X Hunter (3xLP with tri-fold packaging)
Tokyo Godfathers (2xLP with gatefold packaging)
Vampire Hunter D (1985)
Special exclusive gift release
Holy Mountain Printing subscription prints
TLV face mask
Available at www.tigerlabvinyl.com.